About Kasuga Dental Clinic

Since 1913, when my grandfather opened in Tomioka, Koto Ward, this hospital has been taking local treatments. My grandson is the director and the third generation.
It is a 1-minute walk from Monzen-Nakacho Station and a 1-minute walk from the Fudoson-mae bus stop, so even those with weak legs can go to the hospital without difficulty.
On weekdays, the clinic is open until 20:00 except on Wednesdays, making it easier for patients to return to work.
Characteristics of our hospital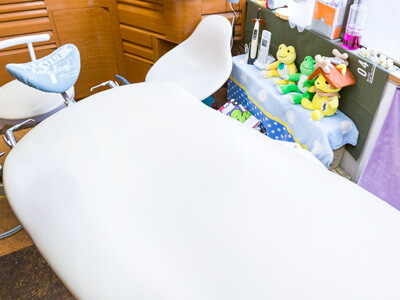 Our hospital recommends horizontal medical care, which is performed while the patient is sleeping.
Compared to sitting and taking treatment, there are advantages such as being able to receive treatment relaxed if you are sleeping, and the dentist's eyes are hard to shake.
If you have experienced unpleasant experiences in dental care that you have encountered, we would like to ask you about your treatment policy after thoroughly listening to your concerns.
We recommend that you use your dentist as a "stick that won't fall" and receive early treatment and oral hygiene guidance if you are satisfied.
Some patients at this hospital may be difficult to visit because they are elderly and their legs are poor.
I also go to the hospital for such patients.
Greeting from the director
Director Yoshihiko Kasuga
"Clinic who can go without fear"
I am aiming to be a dentist who never wanted to go again but would be happy to come.
I would like you to make sure that your teeth that you have been with for a long time are kept for a long time.
Sometimes playing a guitar or performing will soften the patient.
In elementary school, we make a song called "Kamukamu Rock" and sing along with elementary school students to create a bright image of dental practice.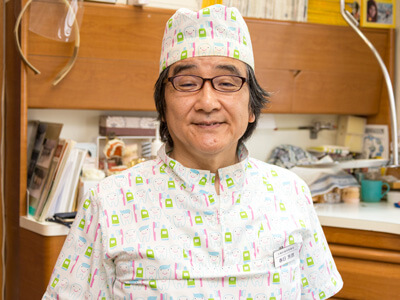 | | |
| --- | --- |
| Born out of school | Tokyo Dental College |
| place of birth | Tokyo |
| birthday | 1956/11/05 |
| blood type | O type |
This is a dental health song written by the director, Yoshihiko Kasuga.
Kamukamu Rock [SakatarujiVer.]
Kamukamu Rock [Iiman Ver.]
Name
Kasuga Dental Clinic
Director
Yoshihiko Kasuga
Street address
1-9-6 Tomioka, Koto-ku, Tokyo 135-0047, Japan
Consultation hours
◆mon・tue・thu・fri
10:00~13:00、15:00~20:00
◆ Sat
10:00~13:00、14:00~17:00
Closed day
Wednesday / Sunday / Holiday